ten things that omarion did
post number ten
This morning, I saw a Tweet.
"Post to Be" — so many memories. Such pure feelings of being outside. And Jhene, who heroically floated over this.
It's easy to forget that this is an Omarion song. You know what, it's easy to forget many a cultural contribution that Omarion hath giveth.
Here are 10 things that Omarion did.
The time he wore that outfit in the "Post To Be" video.
I'll never forget my dear friend Naomi Zeichner calling this video "four pure minutes of perfectly crisp mirror-dancing that doubles as a home abs workout." And she's completely correct. There's a lot going on in this video, but for now just focus on a still of Omarion.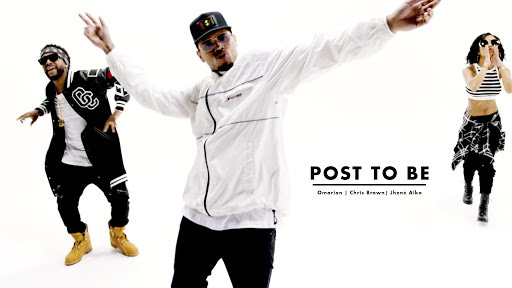 My guy did Timbs, black pants, a letterman jacket cape, a white tee, chain, shades, and a Coachella bandana — in one look. I don't know if it's a good look, but it's certainly one I think about often.
"Like the infinity stones, I wonder when I'll get all the pieces together," I say to myself. "Maybe this will be my first Post-Quar Outfit. Yes, yes that's what I'll do. When my neighborhood dive bar finally — triumphantly — opens up its doors, I'll show up, dressed like Omarion."
The part of the "Ice Box" video with the clock and the Newton's cradle and the white gloves
Great video, and a surprisingly timeless song. But also: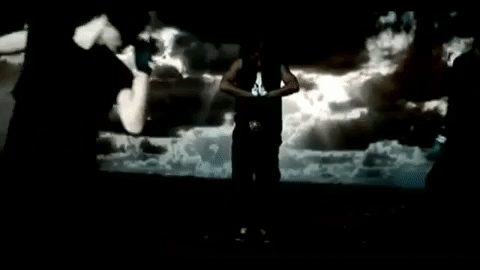 When they started advising people to wear gloves because of COVID, the first thing I did was look up "white baseball batting gloves" on Mizuno.com. Maybe this blog post is less about "things Omarion did" and more "ways that he is subconsciously my style icon."
This headline, from THIS WEEK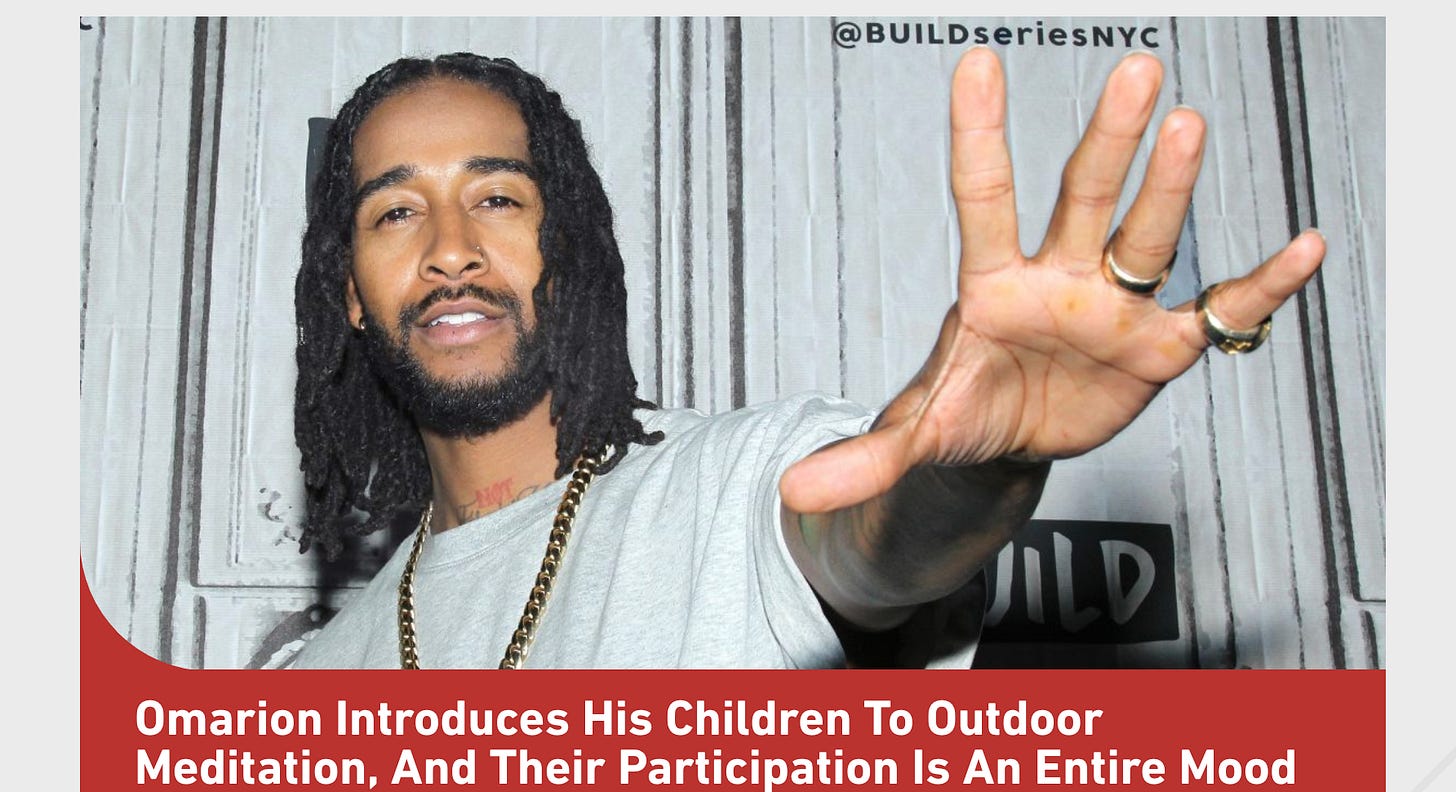 From the article on BET.com:
"Take care of your planet & it will take care of you," the 35-year-old star cautioned fans. "Thank you Mother Earth."
I didn't expect this at the time I started writing this, but Omarion, who looks like Real Jesus, might be my North Star (which would make sense, if he turned out to be Jesus).
This headline, from ALSO THIS WEEK

One thing's for sure — I had no idea what was going on in Omarionland. LIL FIZZ IS DATING OMARION'S EX?

In this article, I learned that people on these social networks (and these computers) are referring to him as the "King of Unbothered." Why?

"His fans named him ['King of Unbothered'] due to his calm demeanor amid his complex family situation."

It's officially time to follow Omarion on all platforms. Enough is enough.

6. Omarion popping out of the floor during the 2019 Millennium Tour

Who is that next to him? LIL FIZZ, OF COURSE. How was Lil Fizz doing on the Millennium Tour, none of you asked?

Damn, that's cold. Any positivity or unification in the YouTube B2K stan comment sections?

That's better. The King of Unbothered would appreciate this. We love to see this, as well as any other comments that are Promarion.

Sorry, Fizz.
Keeping his cool while Ch**s Br**n did the "March Madness" front flip

To set the scene, Christopher brought Omarion out on stage as a surprise. The two men, both incredible dancers, did just that — danced. People were thrilled to see Omarion, because who doesn't love OMARION?

And then Christopher had the AUDACITY to do this (I'm so glad he did this):
Yes, he did it on beat. And yes, after decades of being radicalized into thinking backflips were cooler than front flips, Christopher has proven otherwise. But how are you, Christopher, going to bring out a guest, let him dance for 2 seconds, and then do a legendary move in front of him and then end the song and dismiss him?
Other people would have been upset. But not The King of Unbothered. Just another day in the life.
The time Omarion did that leap in You Got Served to win the race war.
At first it was hard to pick one scene from You Got Served. But then I remembered the Final Battle and then it, like, wasn't hard anymore.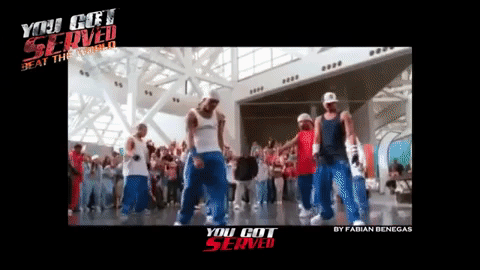 Come for the Omarion, STAY FOR THE JACKEE.
Every single second of "Touch."
This song + video combo is so important.
Omarion's performance in the "Touch" video is like Daniel Day-Lewis in There Will Be Blood. It's a clinic, it's the first thing you learn in Performance 101, and it is what every other performance (yours and others) is forever compared to. From the streets to the cobblestone to the sidewalks, Omarion showed out. When people talk about Usher vs. Chris Brown, this is Omarion's very real submission into the argument.
Omarion's hook on "Let Me Hold You."
Shad Moss shows up and shows OUT in this video. Whoever creative directed this arm move should be the CEO of Wieden + Kennedy.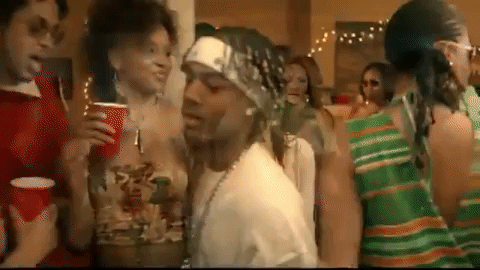 It's easy to get so caught up in this move that you forget about Omarion. [Honestly, I didn't even realize Omarion was on the staircase until I made this GIF.] But while his on-screen performance is less memorable, what he does to this hook is iconic.
In my arms in my mind all the time I wanna
Keep you right by my side 'til I die I'm gonna
Hold you down and make sure everything is right with you
You can never go wrong if you LET. ME. HOLD. YOU.
DOWN like a real friend's supposed to
I'm trying to show you
The life of somebody like you should be living
Ohhhhh, baby baby
You could never go wrong if you let me hold you
It's one of those classic hooks that's great alone, but best when surrounded by your best friends in the clurb.
I miss outside.
The Omarion 23-step kick ball change
Nothing has, and will ever, make me laugh this hard.
Look at my sweet angel babe go.
It's like God pressed fast-forward, but just on Omarion. I can't.