other newsletters, that are good
post number twenty one
Note 1: Just wanted to give a donation update. We've just crossed the $5000 mark on money from subscriptions and have given out $4000 in funds, to one organization, one middle school, two staff relief funds, and two individuals. Thank you all so much — this is an amazing achievement in less than three weeks. Here's the donation tracker. Keep sharing, keep gifting subscriptions, keep sending me weird emails, and keep reading.
Note 2: For those of you who signed up for the "IYKYK" custom donation level — 1) thank you and 2) stay tuned — there's extra weirdness coming your way. Even if you've already subscribed, you can still tack that on and join the wave (might have to put in a secondary email address, I don't actually know how things work).
---
The most important quality of a good writer is being a curious reader. It's something I forget often, occasionally going lengthy periods of time solely concerned with my own work, instead of taking time to let other words and phrases and pieces of dialogue wash over me (or, at times, utterly destroy me, leaving me in a puddle of my own tears).
Yes, this has been true by way of books (I'm currently juggling Ender's Game by Orson Scott Card and I Don't Want To Die Poor by Michael Arceneaux). But in starting a newsletter on Substack, I've also found a handful of other great newsletters that have become a part of my daily and weekly quaroutine (just made that up, I think I nailed it).
Here are some that I think you'll enjoy — BLOGROLL SEASON HAS RETURNED.
Cooking in Quarantine by Sammy Koppelman.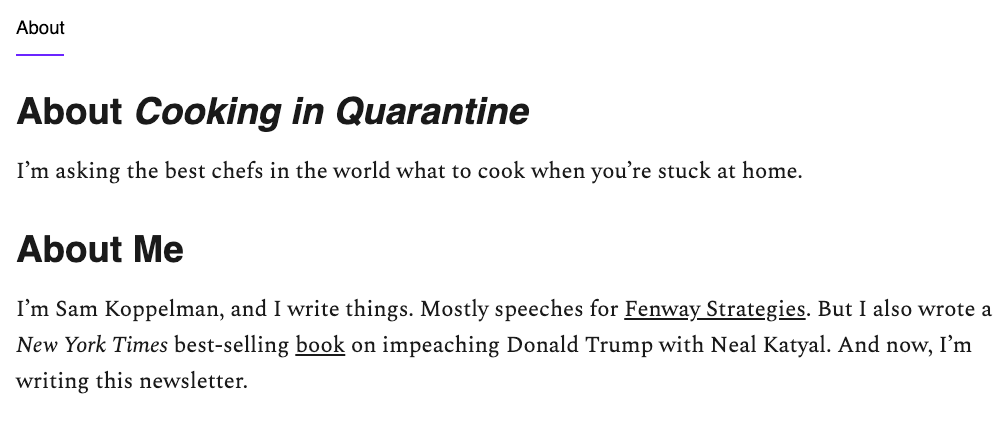 Let me just say, I'm FURIOUS (at myself) that Young Samuel got the URL "quarantine.substack.com" before me. Anyway, the premise is great, the posts come every few days, and it's a genuinely fun ride.
Beauty IRL by Darian Symoné Harvin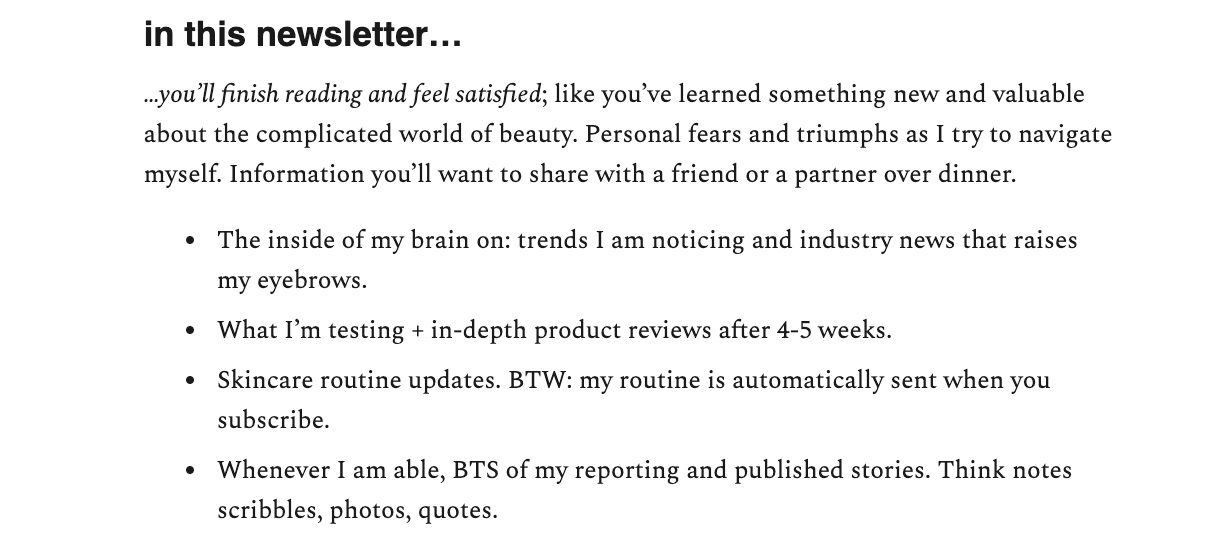 Darian is an extremely talented writer, covering the intersection of beauty and culture for The New York Times, teenVogue, and her own newsletter. 95 percent of the things I know about the world of beauty are from Darian's brain. I highly recommend.
Power Plays by Lindsay Gibbs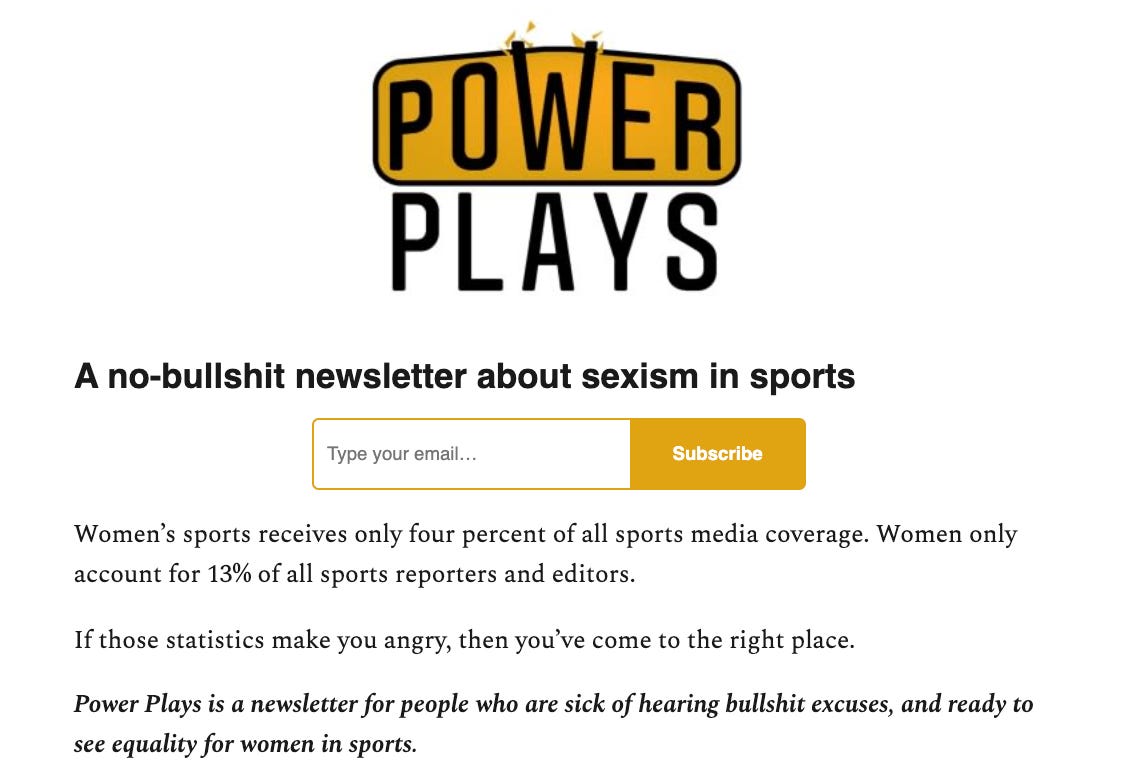 This was the first Substack newsletter I ever subscribed to, months before I ever considered starting one myself. The newsletter holds no punches and is exhaustive in its coverage of the inequity that exists in the world of sports and sports media. Her posts have become essential reading.
The Motto by Elliott Wilson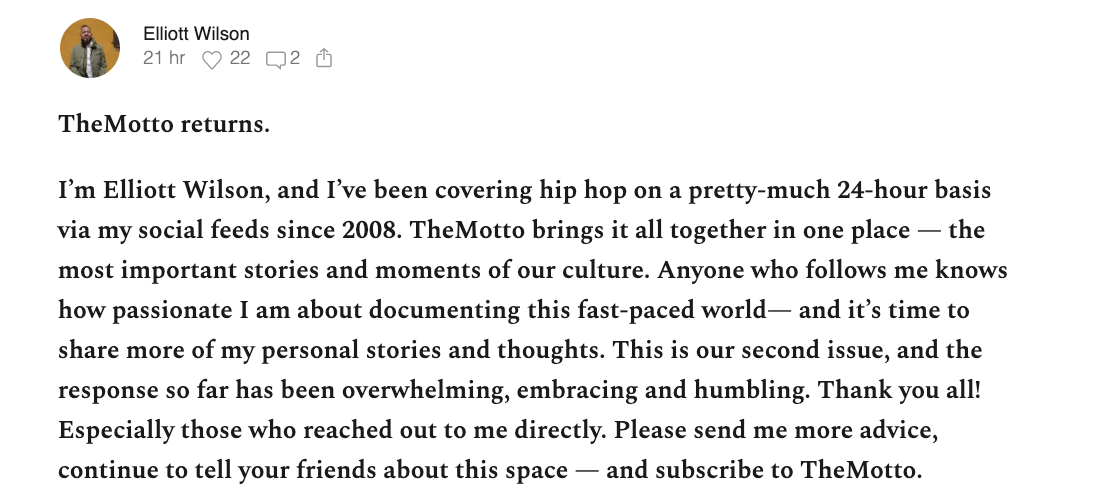 From EgoTrip to XXL to CRWN to Rap Radar to Tidal to HRDCVR (with his wife, the legend Danyel Smith), Elliott Wilson is always in the mix when it comes to hip-hop and how it's discussed. His decision to start a newsletter — half aggregator, half storytelling platform — is delightful news. It just launched in May, but I'm already pumped for my daily dose.
There's also The Leaks and Hear Hear (two really good music newsletters), Ask Polly (Heather Havrilesky's newsletter extension of her column at The Cut), and Fruity (by Phillip Picardi — Aries sun, Leo rising, Sagittarius moon).
Finally, this — from JP Brammer and his newsletter Hola Papi — which is deranged and should be read, immediately.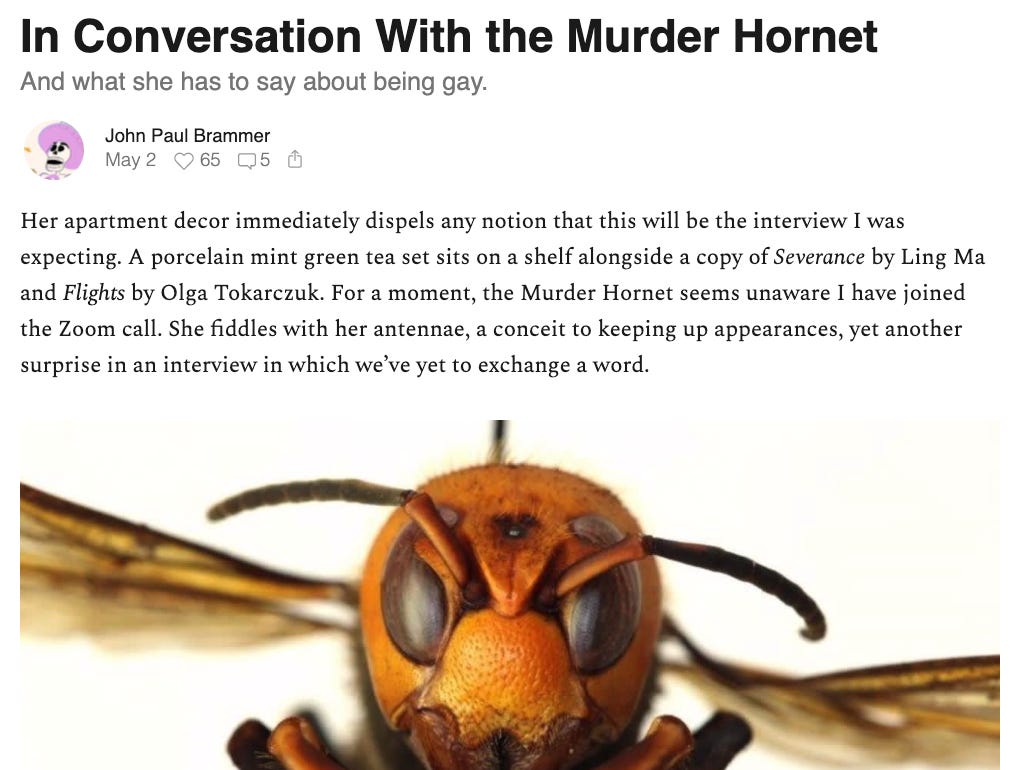 Writing is great, but reading is the best.